Lodge 146 Challenges Discriminatory Labour Laws in Alberta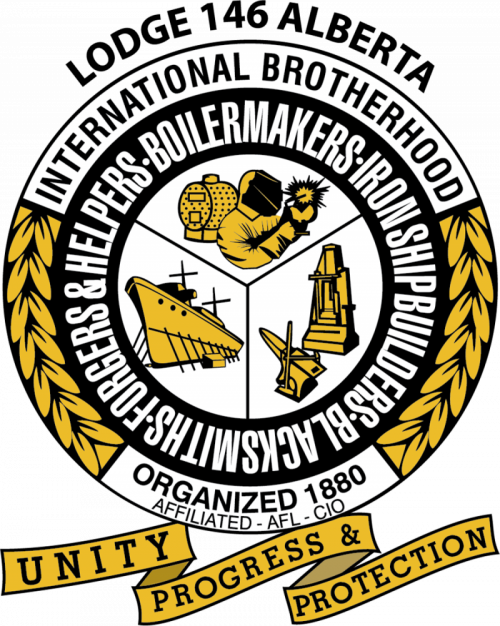 ---
Posted on October 25, 2018
EDMONTON – Two unions representing more than 15,000 Alberta construction workers have filed suit to overturn sections of the Alberta Labour Relations Code that they claim deny their members'
constitutional right to free collective bargaining.
Local 955 of the International Union of Operating Engineers and Local
146 of the International Brotherhood of Boilermakers say the Code creates a situation where they cannot negotiate the provisions of their own collective agreements.
"All we are looking for are the same rights as every other Canadian worker has under the Charter of Rights and Freedoms," said Hugh MacDonald, business manager of Boilermakers Local 146, which represents
4,500 workers who work on Alberta's largest construction projects.
"We're asking for the same right to bargain collectively as workers in health care, the public service and other Alberta industries," said Christopher Flett, business manager of Operating Engineers Local 955, representing 12,500 industrial construction and maintenance workers.
"We want to determine our own wages, benefits and working conditions, nothing more and nothing less."
The unions have applied to have Sections 184-191 of the Labour Relations Code declared unconstitutional and void. The sections mandate a collective bargaining procedure that lumps different unions into bargaining groups to negotiate their contracts. Provisions that establish pattern bargaining mean the concerns of some unions can be disregarded under procedures required by the Code.
"In effect, the provisions of the Code prevent us from negotiating on the concerns of our members," said Flett. "This has to change."
MacDonald said the Boilermakers union made its concerns known to the government when it was undergoing its review of the Code in 2016. But although the province introduced reforms, they did not include anything related to construction bargaining.
"Our contracts expire next April," he said. "It's crucial for us that the denial of our constitutional rights is on the table before we have to go through this sham of a bargaining process again."
Flett said member concerns range from health and safety to compensation.
"Our two unions represent highly skilled construction and maintenance workers," he said. "The concerns of our members are important ones for our industry. We can't have them buried under mountains of red tape and obstacles."
"We are happy to join this lawsuit for our members' constitutional rights," said Joseph Maloney, international vice-president for Canada of the Boilermakers union. "No other jurisdiction in Canada has these kinds of rules and regulations that are designed to hinder the free collective bargaining process. Alberta construction workers want nothing more than the rights their fellow members have in the rest of Canada."
The union suit was filed Oct. 15 in the Court of Queen's Bench in Edmonton.
---
---