In Memory of William (Bill) Marcynuk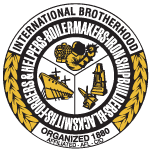 ---
Posted on February 23, 2018
The International Brotherhood of Boilermakers Lodge 146 is sad to announce the passing of Brother William Marcynuk. Brother Marcynuk passed away on April 1, 2016, at the age of 73.  He had been a member of the Boilermaker Union Lodge 146 for almost 50 years.
This is the information we received from his daughter Teresa: 
My father passed away 01 Apr 2016, in his winter vacation spot of Arizona. He was an organ donor, and a woman down there received a new liver. His body was donated to scientific research to further the education of the next generation of medical staff. A memorial was held in his other home of Edson, AB in May 2016, attended by family from Edmonton, and many friends from the community, and Royal Canadian Legion.