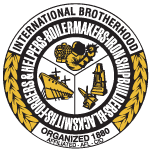 ---
Posted on November 19, 2018
The International Brotherhood of Boilermakers Lodge 146 is sad to announce the passing of Brother Gary Honig. Brother Honig passed away on November 18, 2018, at the age of 74.  He had been a member of the Boilermaker Union Lodge 146 for 50 years.
A gathering of family and friends will be held at Serenity Funeral Home on Monday, November 26, 2018 at 11:00 am in Spruce Grove Alberta.
If you are planning on attending please contact Gary's daughter, Lee-Anne Campbell at 780-616-5688 or Lee-Anne.Campbell@levitt-safety.com.