146 Apprentice John Felipe wins Silver Medal!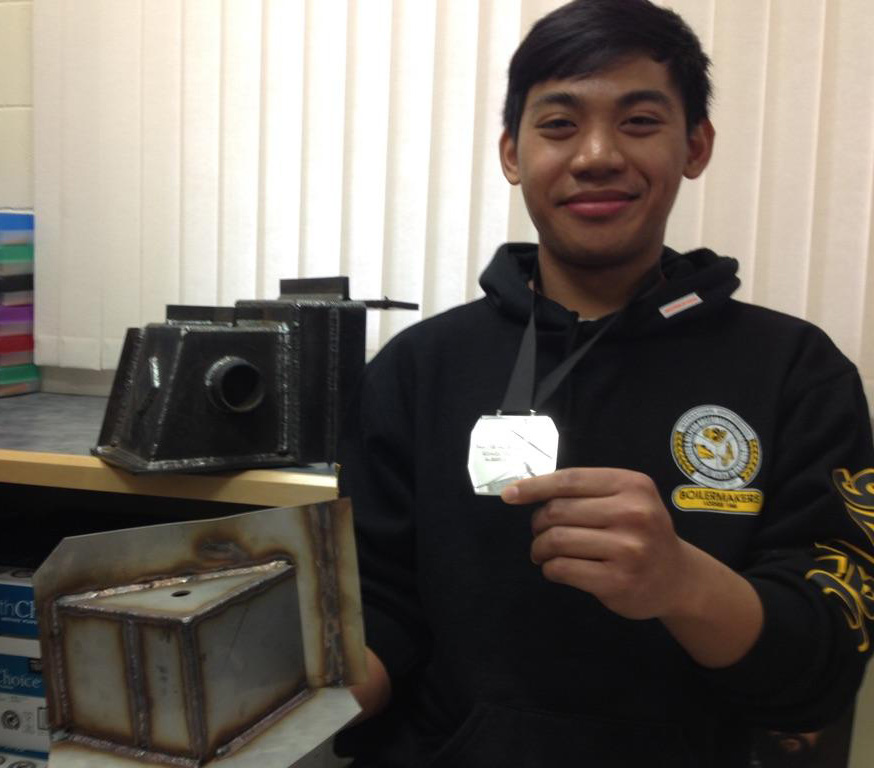 ---
The Skills Alberta/Canada 2015 event took place May 13th and 14th at Edmonton Expo Centre at Northlands. Two Lodge 146 3rd year Welding Apprentices competed in the event.
John Felipe, a Lodge 146 3rd year Welding apprentice, won the Silver Medal in the Skills Alberta/Canada 2015 (post-secondary) Welding Skills Competition.  The picture shows John with the 2 projects he needed to complete during the competition.  NAIT Instructor Wade Martinson (146 member) along with some other instructors recognized John's ability in technical training and recommended him for the competition.  John trained for the competition at both NAIT and Lodge 146 Welding Training Centre.  A big thank you goes out to NAIT and to our 146 welding instructors who got him ready.
Zenon Parchewsky was recommended for the competition by his welding instructors in Medicine Hat College who recognized his high skill level during technical training.  Zenon used our Union training facility to help prepare for the competition and he represented Local 146 very well.
You can view the awards ceremony here, it was streamed live.  If you go to 01:32:00 in the video you will see John receiving his award wearing his Boilermaker 146 hoodie.
The Boilermakers always attend the Skills Competition (in which most trades compete) with a career fair recruitment booth, so thanks to the people who volunteered to help out over the last 2 days.
CONGRATULATIONS to all involved!